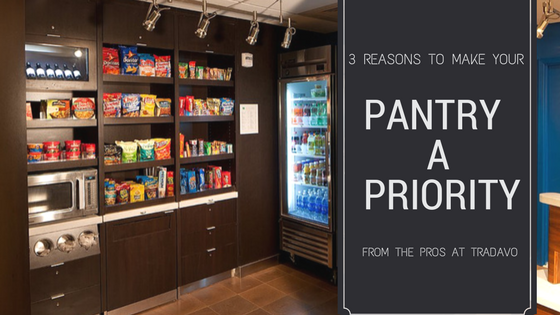 Is your year off to a busy and profitable start? Whether revenue is meeting or exceeding your financial forecast, consider this: Your pantry could be making a significant difference.
Did you know a well-managed pantry can earn your property the equivalent of an additional 1-3 room nights at your ADR? For many hoteliers, a pantry is just another guest convenience, often overlooked and daunting to manage. Your hotel pantry is not just a guest amenity, it can be a highly profitable retail space that guests LOVE!
With a little input from our friends at Hotel News Now, here are 3 reasons to make your pantry a priority:
1. Keep up with the F&B trends:
Nicole Young, director of sales and revenue management at SBE says, F&B accounts for a significant portion of her company's revenue. The grab-and-go trend has exploded, with many properties now operating trendy, lobby grocery stores.
2. Snacking is the new dining:
Young said there is "a blurring of meals" for some guests, meaning they take more food breaks across the day but with smaller portions. With all the snacking and grazing throughout the day, your hotel pantry should be able to satisfy a range of taste buds. Educate yourself on special food diets such as: gluten -free, dairy-free, sugar conscious, vegetarian, vegan, low-fat, low sodium and more. (We can help)
3. Hospitality retail = PREMIUM returns:
Jim Ries, corporate director of banquets and catering for the Americas at InterContinental Hotels Group says,"Research has shown guests are willing to pay a 13% premium for such grab-no-go offerings, Snacks are the new meals."
For the entire article -- The trends that are shaping hotel F&B .
Hungry for more?
Whether you have a pantry or are starting fresh, Tradavo Managed Retail will construct a winning strategy to turn your pantry into a retail champion. This comprehensive solution will help you maximize your space, obtain higher profit margins and increase guest satisfaction. Make your pantry a priority with Tradavo!