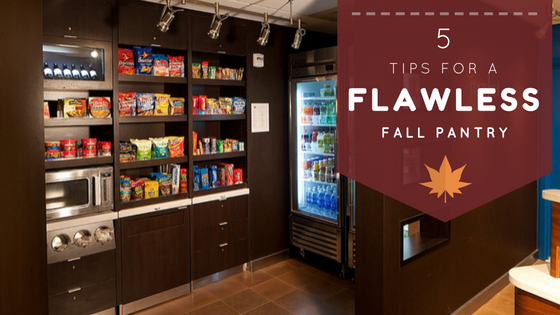 5 Tips for a Flawless Fall Pantry
The peak summer season may be coming to an end but that doesn't mean you can't continue to earn big profits. This fall you can expect to see a shift in guest demographics. The seasons are changing and so should your Pantry. Follow these five tips and your Pantry will be stocked to satisfy their every need.
1. Fall business travel means on-the-go snacking
Business travelers can be pressed for time with their busy schedules. They also tend to keep a close eye on their expenses. This combination makes them far more likely to browse your Pantry for a satisfying snack or meal replacement to save their company the dollars that would otherwise be spent on pricey dining. Use this to your advantage – stock your shelves with healthy treats, satisfying snacks, frozen meals and the grab-n-go items your guests craves.
2. Sundries always save the day
Airplane travel, lack of sleep and poor diet all contribute to a weak immune system. Also, the changing of seasons triggers allergies. Medications and other sundries are crucial for fall travelers. Business travelers in particular can't risk getting a splitting headache or even worse, forgetting their toothbrush. Keep your sundry line fully stocked and take the best care of your guests.
3. School is in Session
EIs your hotel near a University? Expect to see a heavy influx of sports teams and sports fans throughout the season. Don't forget about the parents of college freshmen, eager to help their kiddo make the big move. These guests won't have much time to relax and enjoy full course meals so prep your Pantry with items that will keep these dedicated athletes, fans and parents fueled.
4. Bring on the caffeine
The kids are back-to-school and the leisurely summer vacations are dwindling. Fall travel means business. Green and black teas, coffee brews and energy drinks will give your guests that extra boost they need to conquer the day.
5. Review your pricing
If you happen to be experiencing a decline in business or occupancy, take a hard look at your Pantry numbers. Adjust Pantry pricing to deliver a high profit margin even if you're experiencing lower-than-usual revenue.
Tradavo is here to help you design, optimize and manage your Pantry. If you are having trouble choosing best-selling items for your Pantry click below for a Fall Product Refresh.