From: Tradavo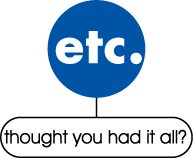 Subject: Tradavo Update: Marriott Chooses ETC Sundry Line for The Market and In A Pinch
Reply: info@tradavo.com
The #1 Online Supply Solution for Hotel Pantries Nationwide!
Marriott Announces New Sundry Line for Extended Stay and Select Service Properties

Sunday June 15, 2008 Marriott International, in a continued effort to improve the Marriott guest experience and define a nationwide quality standard for The Market and In A Pinch hotel pantries, has chosen Convenience Valet's ETC line of sundries for the Amenities Cabinet.


Introducing ETC.
Eloise Sanchez, Marriott CFRST Market Manager, announced the selection of the Marriott exclusive line of sundries for all Select Service and Extended Stay properties in the June 15th, 2008 edition of the weekly Marriott GM newsletter. More information can be found on the Marriott MGS intranet by visiting The Market pages in the Retail section.
The ETC line of single serve, blister card convenience items and sundries was created exclusively for Marriott Hotels and has been successfully sold at Full-Service Marriott Hotels since its release.
Out With The Old . . .
ETC should replace all other sundry lines sold at Marriott Select Service and Extended Stay properties including Courtyard, Fairfield Inn, Residence Inn, SpringHill Suites and TownePlace Suites.
Ordering ETC Sundries
Convenience Valet, formerly known as Mechanical Servants, is no longer accepting faxed orders. All ETC items should be purchased online using the Tradavo Ordering Platform. If your property is not currently registered for an account, please sign up now to place your Market order for ETC sundries.
Scanning ETC Barcodes and New, Pre-Priced Packaging
Properties who have been purchasing the Convenience Valet line of sundries from Mechanical Servants will notice two changes on the new Marriott-exclusive ETC packaging:

1 - Dual Barcodes - Starting June 15, 2008, all ETC sundries for the Amenities Cabinet will have dual barcodes that can be read by FOSSE scanners. Two barcodes are provided on the back of the packaging to accommodate the two POS systems used by Marriott Hotels.

2 - Pre-Priced Packaging -All ETC products come pre-priced by Marriott International based on sales research and pricing practices that adhere to a nationwide standard for all Marriott properties.

Questions about the new ETC line?

Contact Eloise Sanchez
Marriott CFRST Market Manager
eloise.sanchez@marriott.com